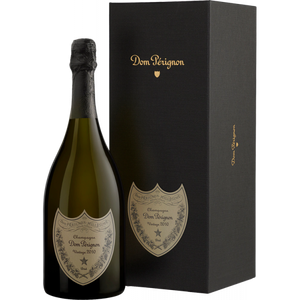 Dom Pérignon is a brand of vintage Champagne produced by the Champagne house Moët & Chandon and serves as that house's prestige champagne.
The Dom Pérignon Brut Magnum (150cl) Champagne comes beautifully gift boxed. 
It is the latest release from this famous Champagne house and true to the ambition of Dom Pérignon in the late 17th century, Chef de Cave Richard Geoffroy demands the exceptional. This is another great example of their mission to create the ultimate expression of the best vintages in Champagne.
The warmth in this vintage has ripened the pinot noir grapes perfectly and creamy textured and precise with flavours that are at once complex and rich yet delicate and pure; focused and elegant with subtlety and depth; graceful, balanced and astonishingly beautiful.