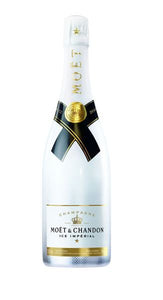 Moët & Chandon have set a high quality benchmark and is known as the icon of elegance and success. 
The first and only champagne especially created to be enjoyed over ice. A new champagne experience combining fun, fresh and free sensations while remaining true to the Moët & Chandon style, a style distinguished by its bright fruitiness, its seductive palate and its elegant maturity.
Intense, fruity and fresh, it consists of three grape varieties: Pinot Noir, Pinot Meunier and Chardonnay.