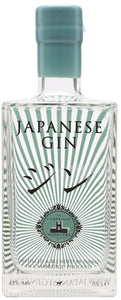 Rewarded as the "Most Innovative Distillery in the World" This gin in particular is the first gin to focus solely on Japanese botanicals.
The six botanicals used are: juniper, shiso leaf, sesame seeds, cucumber, sansho and yuzu: each distilled individually in a vacuum, then blended together for exceptional purity of flavour.
Fresh and exquisitely balanced, serve long with an equally delicate tonic, and garnish with a fan of crisp green apple.
A much sought after gin which is recognised by Gin Lovers throughout.