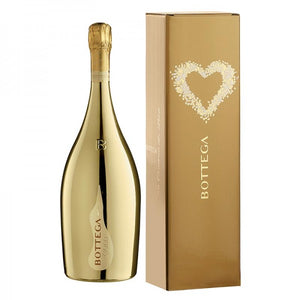 The finest Bottega Gold is a 3Litre Prosecco DOC, obtained by the vinification of Glera grapes. The grapes for this sparkling wine are hand picked to give an elegant and fresh taste with a fine perlage.
The elegance, freshness and liveliness of its bubbles stem from the beauty and tradition of its territory, where unmistakable panoramas are shaped by vineyards.
Presented in a Venetian gold bottle, it not only looks exquisite but preserves it's aroma and freshness.
View: Bright, straw yellow, fine and persistent perlage.
Bouquet: Typical and refined with fruity (green apples, pear, citrus fruits) and floral (white flowers, acacia, wisteria and lily of the valley) notes, sage and spices in the finish.
Taste: Soft, harmonious and elegant, with a slim body and with lively yet balanced acidity.
ABV 11%