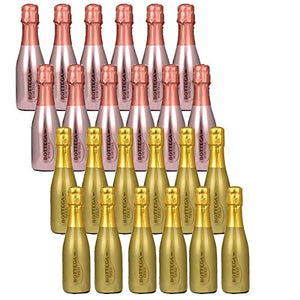 This Bottega mixed case includes:
12 x Bottega Gold Prosecco NV 20cl
12 x Bottega Rose Gold Sparkling 20cl

Bottega Gold Prosecco - A Fruity Nose With Flowery With Scents Of Golden Apple, Williams Pear, Acacia Flowers And Lily Of The Valley. A Fresh And Aromatic Prosecco Sparkling Wine.
Bottega Rose Gold Sparkling - Distinctly Flowery With A Scent Of Mixed Berries, Mainly Currents And Wild Strawberries. On The Palate Fresh, With A Good Acidity, Harmonious, Delicate And Persistent.

Great mixed case! The ideal choice for aperitifs, dinners and parties or the perfect gift for any prosecco lover!