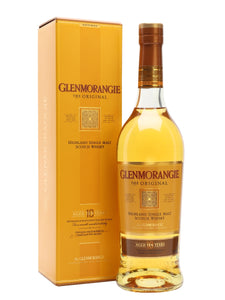 Core Expressions Range...
The original expression of the elegant, floral spirit and real backbone of the Glenmorangie range. A ten-year-old single malt, Glenmorangie Original is produced by marrying the delicate spirit that emerges from Scotland's tallest stills, with first and second fill American white oak casks.
Matured for 10 long years in a range of ex-bourbon casks, allowing the raw spirit to develop a perfect balance between sweetness and complexity. Resulting in a mature spirit that is soft, mellow and creamy. Perfect for enjoying at any time.
Aroma: The scent of citrus and ripening peaches is softened by the aroma of vanilla.
Taste: First, vanilla is detected on the tongue before it ripples along the palate bringing a burst of flowery fruitiness.
Finish: About a minute after tasting, you are left with a clean and salving aftertaste with hints of orange and peach.