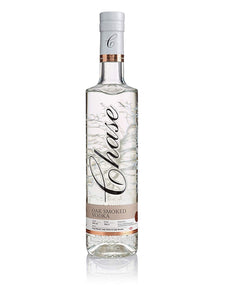 Water from our own spring is smoked with English Oak for five days then blended with Chase Vodka to achieve a beautifully delicate smoky finish. ABV – 40%
Nose: Warm and inviting, like a great British campfire. An initial peppery haze opens up to a lightly sweet and creamy, oak smoke with delicate notes of ash flitting by in the breeze.
Palate: Sweet and light woody notes of liquorice root greet the pallet on entry. Hints of charcoal and black pepper lead the way with a lightly tingling bitterness and spice, before the billowing oak smoke that follows.
Finish: Soft and delicate smokiness, warming like orange embers in the fireplace.
----------------------------------------------------------------------------------
Designed to create the ultimate Smoked Bloody Mary:
50ml Chase Smoked Vodka
20ml Freshly squeezed lemon juice
Dash Tabasco sauce and Worcester sauce
Tomato Juice and celery salt
Freshly grated horseradish
Shake ingredients with ice and strain into an ice-filled highball glass.
Garnish with a stick of celery, lemon wedge, and a grind of black pepper.