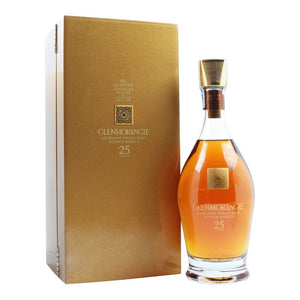 Prestige Expressions Range...
Complex, multi-layered varying sweetness one of those great whiskies where the genius that shaped the picture becomes clear only on fifth or sixth time of viewing.
The rarest and oldest member of the Glenmorangie family, this is a single malt of notable class and intensity. Full bodied and sumptuous, it is the  real embodiment of Glenmorangie's continued dedication to perfection.
Matured in a range of casks including American white oak, Oloroso sherry casks and French Burgundy casks before being blended back together in exact quantities, it bursts with deep flavours, and portrays a testimony of knowledge and experience.
Aroma: The first impression is of dried fruits - blackberries, cherries, plums and dates interwoven with chocolate and coffee.
Taste: Big and full-flavoured. Deep forest fruits burst on the tongue with mouth-watering blackberries and redcurrants emerging with bramble jelly.
Finish: Long and gentle, with brambles and warming spices.