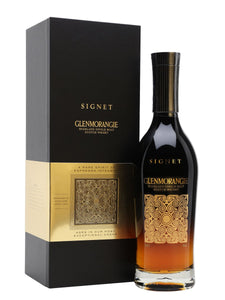 Prestige Expressions Range...
Through the years, our whisky creators have dedicated themselves to their craft, in pursuit of perfection. These peerless whiskies are the culmination of their art.  In celebration of such mastery, we bring their most rare and treasured creations to the discerning connoisseur.
A fusion of unique and rare elements, and clouded in secrecy, Signet is the culmination of a lifetime's experience. A blend of Glenmorangie's oldest whisky and spirit matured in a selection of the world's finest casks, this undoubtedly is the richest whisky in the  range.
Whilst the exact secrets of its production are kept only to its whisky creators, we can tell you that Signet's melting sweetness and explosive spiciness is, at least in part, caused by the unique roasted 'chocolate' barley malt and the 'designer casks' made bespoke for Glenmorangie from American white oak. Non chill-filtered
Aroma: A strong Aruba espresso fused with a treacly plum pudding, rich with sherry, and candied orange peel.
Taste: A contrast of rich sweetness with an explosive crackle of sizzling spices and bitter mocha.
Finish: A fresh spring-like breeze of mint with a bright citrus lemony-green quality.